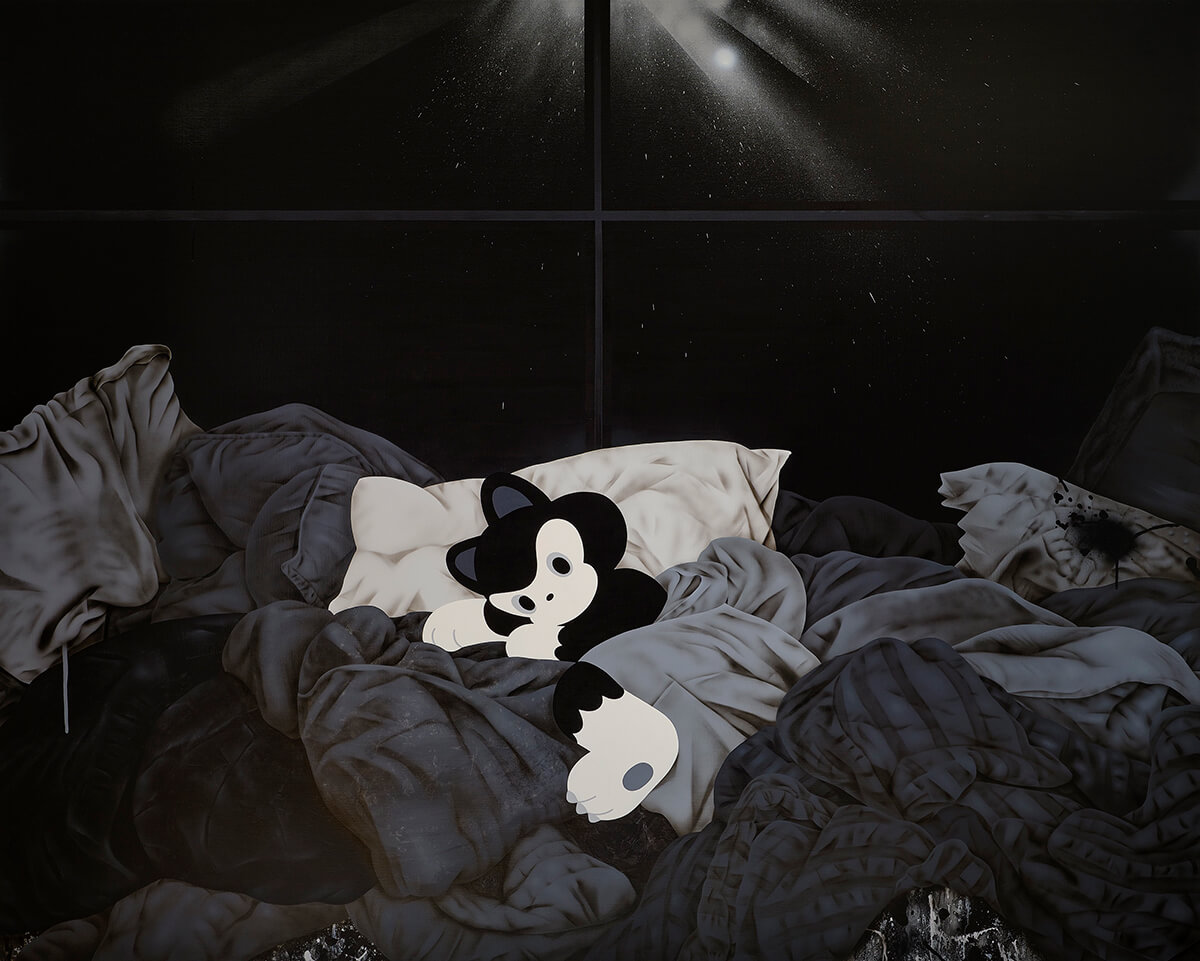 NEWS
TIDE solo show "HAPPYSADEMPTYFULL"
この度TIDE によるニューヨークでの初個展「HAPPYSADEMPTYFULL」をRoss + Kramer Galleryにて開催いたします。
本展はTIDEの米国における初の個展となります。

TIDEは、家庭的な環境で描かれるモノクロームの猫のキャラクターで知られてます。2019年から制作を続ける「CAT」シリーズに登場する猫をモチーフとしたキャラクターは、さまざまなグレースケールの世界に描かれ、しばしば美術史に言及します。本展で発表される新作では、CATが、毛布や布団で覆われたベッドでくつろぐ姿が多く描かれています。
展覧会のタイトルは、同じタイトルのペインティング「HAPPYSADEMPTYFULL」に由来し、人が一日のうちに経験する感情のサイクルを意味しています。家猫は、パンデミックによって隔離された人間と同じように、狭い範囲での人生を経験しています。このモチーフは、ここ数年間の状況と特に関係が深いように感じとれます。
エアブラシやスプレー塗料を何層にも重ね、質感や自然の要素を表現するために様々な筆致を駆使するTIDEの作品は、繊細な環境に奥行きのある錯覚を表現します。調和のとれた構図の色価と豊かさを見事に示し、モノクロームの色彩とシャープで優しいシルエットは、ノスタルジアを感じさせます。

TIDE solo show "HAPPYSADEMPTYFULL"
2023.1.20 (金) ー 2.26 (日)
Ross + Kramer Gallery
515 West 27th Street, New York, NY 10001
ーーーーーーーーーーーーーーーーーーーーーーーーーーーーーーーーーーーーーーーーー
Ross + Kramer is pleased to announce the opening of Japanese artist TIDE's debut solo exhibition, entitled HAPPYSADEMPTYFULL at the gallery's Chelsea location. This is TIDE's debut solo gallery exhibition in the United States. Ross+Kramer previously exhibited his work at the Independent Art Fair in New York in March 2022.
TIDE is a Tokyo-based artist renowned for his signature cat character, which he depicts in monochromatic, domestic settings. Beginning in 2019, TIDE has made grayscale paintings of this cat character, existing within various domestic environments, often punctuated with art historical references. In this newest body of work, the cat, perhaps an avatar for the artist himself, lounges in a cozy bed, swatched in blankets and layers of duvets.
The title of the exhibition comes from a painting, HAPPYSADEMPTYFULL, and reflects the cycles of feelings that one experiences throughout a day. The subject matter feels especially relevant given current events—a housecat, much like humans in a pandemic lockdown, has a somewhat narrowed spectrum of experience.
TIDE works in multiple layers, using airbrush and spray paint to express the illusion of depth in a delicate environment, and employs a variety of brush stroke techniques in order to create the appearance of texture and natural elements. TIDE's work wonderfully demonstrates the value and richness of harmonious composition. His monochromatic palette, coupled with crisp yet gentle silhouettes, ignite a pronounced sense of nostalgia.
Tatsuhiro Ide (born 1984, Japan), known as TIDE, lives and works in Tokyo. TIDE's work has been exhibited internationally in Japan, Korea, and Hong Kong as well as London and New York.

TIDE solo show "HAPPYSADEMPTYFULL"
Friday, January 20, 2023 – Sunday, February 26, 2023
Ross + Kramer Gallery
515 West 27th Street, New York, NY 10001